A COSTUME BALL
OCTOBER 26TH,2019
PORT TOWNSEND WA
Located @ 936 Washington St, Port Townsend, WA 98368
Buy your costume and ticket at the Wandering Wardrobe and receive
-$5 off your ticket purchase and 10% off your costume for the ball.
Smoke Sign is the main project of 32 year old Portland Oregon based producer Krysalis Moon. Born in Guatemala in 1985, he was adopted & brought to America. From a very early age he was enamored with music & has a rich diverse musical background thanks to his mother. His journey with psytrance did not begin until he started organizing underground dance events in 2006, but by 2009 he had fallen so deeply in love with dance music that he started on the road of creation. For the next two years Kris poured hours & hours into production, obsessively digging into Cubase until Smoke Sign was born.
Smoke Sign has an eclectic yet specific sound, pulling from both the ancient & modern worlds to weave audible magic. His conjurations are a fusion of many genres and media sources, combining elements of psytrance, house, techno, downtempo, world music & captivating vocals into his signature story telling style.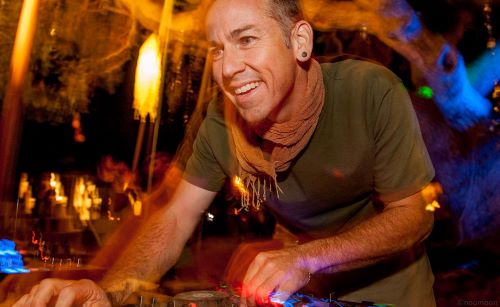 (MOONTRIBE COLLECTIVE)
Michael be has been DJing for 24 years and is a longtime resident and organizer of Southern California's Moontribe Gatherings. He has explored a wide range of genres and venues and brings a refined awareness of how music and movement can be used to achieve full expressions on the dance floor and in our bodies.
Originally from the deserts of Wyoming, Miss Min.D has found her home in the Seattle music scene in 2004.Co-founding of production companies such as Skunky Beats, DJ4NORML and most recently Fraktured, in the greater Seattle area, Miss Min.D has over 14 years of throwing shows and jamming beats! She has ranged from UK Hard House, Electro House, Disco swing house, Booty Breaks and most recently Liquid Drum and Bass. Playing with many names such as DJ Dan, Krafty Kuts, Left/Right and Donald Glaude she has held several residencies at local hot spots around Seattle such as Last Super Club, Club Contour and Noc Noc.
Her current residencies are with Fraktured Sundays at Kremwerk and Soft Option De La Creme at Monkey Loft. Her style and energy behind the decks is a force to be reckoned with and will never disappoint! With great track selection and energy through the roof, she hopes to make that booty clap and you drop it down low on the dance floor! Hope you're ready to dance!
DJ Spitfire aka Jen "Jiggedy" Parraz consistently strives to enlighten and expose the community to quality events and sounds.

Perpetually pushing boundaries, this former head of promotions for Uniting Souls Music, founder of the all femme fatale DJ crew BASS LINE BETTY, head of sponsorship for Infinite Connections, and Gate Lead for Northwest Ignition's SeaCompression, is a proud TECTONIC DJ who has over 18 years of valued Dance Floor Promotions, Management, Event Planning and DJ experience in her repertoire.

Representing Techy Bass House, Breaks, DNB, Half-time, and what she likes to call "chillstep" (a cross between glitch hop/dubstep/acid crunk/downtempo). DJ SPITFIRE'S many edges will cut you deeper than you knew you could feel it. What you need, she brings. What she'll share, you'll love. Anytime. Anyplace. Anywhere.

||Instigating upward movements....Expose Yourself.||
Bryce Tea began Djing in 2008. Bryce Tea boasts an extensive vinyl collection, filled with eclectic gems in all genres. His amalgam of tunes include old school funk, disco, deep house, breaks, hip hop and banging techno. If you spend any time with him you will probably end up shanghai'd on his sailing yacht to enjoy groovy sets on the high seas.

Hook is a multi-genre DJ from the Olympic Peninsula. In that short time, he has performed at renegades, house parties, boats, clubs, festivals, and the 2018 SeaCompression mainstage. His lifelong passion for music, tech, travel, and culture has coalesced in a multi-genre style, mixing music gathered at festivals ranging from London to Costa Rica. His crate contains a collection of trap, ghetto funk, glitch hop, house, and drum and bass.
A true force multiplier, he has been instrumental in growing the burgeoning Olympic Peninsula dance scene. His experience as a live sound engineer and co-owner of a local recording studio inform his attention to detail across the spectrum: from search, to signal, to show.
Tonic Tribe is a captivating, all-female dance and performance troupe. Our accomplished dancers, experience curators, and fire performers are based out of the Pacific Northwest in the U.S. Collectively, we aspire to enthrall audiences through unique entertainment and hypnotic experiences.
Our members have experience ranging in many dance styles and training. This eclectic repertoire showcases classical dance, hip hop, burlesque, improvisational performance, flow arts, aerial, and more. This artistic vision is built on community, innovative collaboration, and feminine power.

Tonic Tribe has performed at an array of festivals, including Cascadia NW Fest, Shambhala, Burning Man, and Bamboo Bass in Costa Rica. We have provided performance and character entertainment for events and artists throughout the Pacific NW, such as Dimond Saints Presents: Enter the Prism, Noise Complaint, Seacompression, and David Starfire.
Natalie is an artist, aerialist, educator and mother with a passion for teaching and community building. She believes in the power of art to uplift and transform lives. Natalie's artistic pursuits focus on the concept of flow, nature, identity and human interconnection. Her work explores themes of abstract energy, electromagnetism, anatomy and inner-space.
Lily Le is an otherworldly artist based out of Washington / Colorado . She lovingly creates vibrant holographic realities and travels across the pacific north west and beyond to share with others. Through her symbolic imagery, there are references to her East Asian roots, street art influences, and mysterious myths & secrets.
Artist "Arise Rawk" has been painting his beautiful strange imagination on canvas, walls, and in dreams for years, making him a staple feature in festival and street art scenes. The paintings strive to bring you into another world, one where you get to be one of the creators, at the border between dream and reality. These places are often filled with creatures and adventures of all varieties and colors in fantastical landscapes.
Coming from a street art and live painting background, a lot of his art maintains the twisted abstractness of graffiti, while blending in techniques of fine art and surrealism. Aside from painting Arise also runs a photo studio called DREAMISH studios, as well as graphic design, curating and artist management for a live mural painting crew called MuralMonstars.
Seattle-based painter Michelle Anderst approaches her craft with a persistent desire to pierce the veils of perception and draw attention to the natural world that is quickly disappearing. She illuminates insect and plant microcosms which are commonly overlooked by humans, illustrating their intricate symbiotic relationships. The extraterrestrial quality of insets, fungi, gemstones and plant-life are conjured with geometry and symbols from ancient esoteric belief systems to create ritual paintings containing surreal worlds which illuminate the inter-connectivity and design behind all living creatures. Michelle has shown art work extensively in Seattle galleries and live-painted as a featured artist at many festivals including Lightning in A Bottle, Cascadia, Imagine, Sonic Bloom and Lucidity.
Chelsea Glanz incorporates the whimsy and magic of nature's landscapes into her illustrations and paintings. She earned her BFA in Fine Art from Western State University, and her mission includes building community, while helping others heal and reconnect with the beauty of the Earth and the abundance of the land through creativity.
Psychedelic, transformative, geometric, visionary, symbolic, flowing, colorful and organic are just a few of the words that describe my work. Purity of nature and patterns explode my sensory of self and bold visuals will come into mind, sometimes the idea evolves after starting, other times it is just about being the transmitter of whatever is flowing through me at that moment.
3rd eye Artistry is a visionary art collective. Influenced by metaphysical and psychedelic culture. Mark Joachim the artist creates healing mediums with intuitive thinking and intention. Using many elements including crystals, wood and metal. His vision is to inspire others through his work (healing) within ones self! The support of our many communities is what makes us strong. We are all one.
My name is Deana Nguyen aka Lola, I was born and raised in Tacoma and shaped by the sharp edges of life that a poor town and poor family offer. Pain has been my most honest friend and has been another influence in my art. Creativity has always been my best healthy outlet. For years I have drawn, since I can remember I used whatever art supplies were around.
Creativity and imagination are skills I learned as a means of survival. Without these skills I cannot imagine where I'd be now, the ability to imagine is a powerful skill that can promote thinking outside the box and manifesting a different kind of life. If you can dream it you can be it.
ART WEAR BY ELEANOR JOSEPHINE
Eleanor has been creating whimsical and fantastic accessories since 2011. She designs for those living between reality and fantasy allowing her clients to bring magic into their everyday lives!
SPOOKY STRETCH
Reva will be opening our night with a 'Spooky Stretch' accompanied by Dj Michael Be to get your body ready for a full night of dancing. Join us early on in the evening as we unite body and breath, music and movement.
Reva has completed over 400 hours of teacher training, 200 in each Vinyasa, Hatha and most recently a training in Yin Yoga. She has found a very balanced practice by blending these styles together and loves to share this approach with others.
Enthea Teahouse in SE Portland provides farm direct, small batch tea sourced directly from garden to teapot with care by owner Steven Odell. For six years he has been building family style relationships with tea producers and master farmers in China bringing some of the most refined folk-style teas available.
Enthea serves the event scene with the same approach as their Teahouse. Where community is found in a cup of tea, bringing people together for a healthy imbibing alternative to most other party substance. Enthea means "to find Illumination within tea" in Latin. Come share a cup of tea. Experience Enthea at Divined.